CTEC 60 Hour Qualifying Education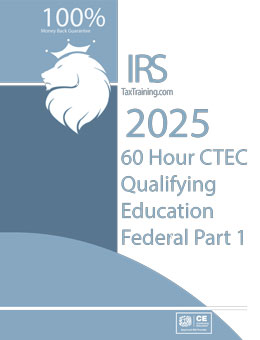 CTEC 60 Hour Qualifying Education
Electronic Course
Printed Version
Product features
In accordance with CTEC guidelines, this course contains:
45 hours Federal tax law
15 hours California tax law
Tax Preparation Scenarios
24/7 access
Product descriptions
Our 60 hour continuing education course is a self-study class, giving you the freedom and flexibility to study when, where and how you want. It includes both California and Federal taxation issues as well as actual tax return scenarios that you complete as exercises. After completing this course you will be have the knowledge and expertise to pursue a career in tax preparation.
Review course material at your own pace
Complete open book online exam
FREE Grading Report completes the learning process
We notify CTEC then you can register
Other Products

CTEC 60 Hour Qualifying Education
Printed Version
$249.95